Dorset-based groundworks and brickworks contractor Brooklyn Homes certainly feels at home with Takeuchi on its housebuilding projects. Construction Plant News Editor, Lee Jones visits the company to find out more.
"I bought my first Takeuchi excavator 15 years ago, and we actually still have it", declares Lee Bradford of Brooklyn Homes. "Whilst, as a rule, we only run our plant for no more than three thousand hours, or three years, before we update it, I'll never let go of my original 1 ½ tonne TBO16, and it's presently holding its own on the very same site as our brand new 9 tonne TB290-2." That long association is built upon a trust in the Japanese manufacturer's machinery, together with the service and support provided by local dealer, CBL.
Established by the present directors' father over five decades ago, Scott and Lee Bradford have since developed Brooklyn Homes into three successful divisions. These now encompass their own developments, as well as brickworks and groundworks packages for the south of England's largest housebuilders, with the Takeuchi presence an integral part of the team. "In total we're presently running a 15 tonne TB290-2, 2 x 1 ½ tonners, as well as 3.5, 6 and 9 tonne units, and they're engaged in everything from footings to attenuation tanks, drainage and utilities. It's important to us that our guys have got the best and most up-to-date equipment to work with, and we look after both them and the machines. The resale value of the Takeuchi diggers is very good anyway, but we do get a good deal when it's time to exchange them."
Whether it's through the company's head office in Wimborne, Dorset to the appearance of their diggers on site, Lee and Scott are acutely aware of the power of projecting a professional image. "Our diggers are all sign written, and when I go out on site the first thing I look for is their condition, because it says a lot about us as a company. The two 1 ½ tonne machines we have on our fleet, which will shortly be joined by a third are, in our opinion, the best on the market, and will compete with most 2 ½ tonners from other manufacturers in terms of power and reach. They're dependable workhorses that can easily be transported from site to site on the back of a trailer."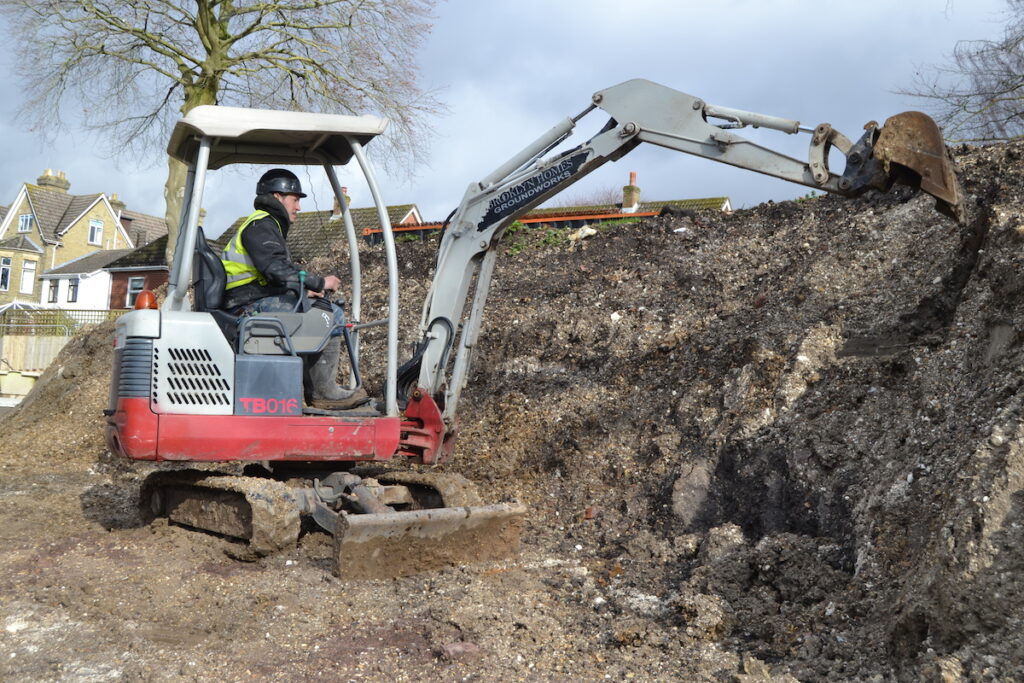 It is a Colmar Construction job in Salisbury that's presently playing host to both a Brooklyn Homes 1 ½ tonne and 9 tonne Takeuchi. This redevelopment of an existing period property into four apartments, with the addition of 11 luxury retirement properties within the grounds, has been complicated by difficult access and, thanks to one of the wettest winters on record, some treacherous ground conditions.
What was required was a machine that could undertake the bulk excavation works, but was nimble enough to thread its way through a restricted site, and the TB290-2 has achieved just that. Indeed, the machine has been designed with a shorter than average tail-swing of just 1,650mm with only 540mm overhang at 90 degrees to the tracks, combined with rounded corners and enhanced visibility.
Site Supervisor, Dean Curtis has been in the driver's seat on the job: "The nine tonne is a good multi-purpose machine," he explains. "They've still got the muscle to get all the site clearance and muck away done, but it's also good for more intricate footings, for instance." Finishing and grading is also facilitated with a 500mm high heavy duty dozer, and two speed tracking.
The Brooklyn Homes TB290-2 features a 52kW Yanmar DPF turbocharged and Stage V compliant engine, a drivetrain that offers increased power and torque but with the ability to work in low emission zones. Dig depth is 4,580mm, with a ground level reach of 7,290mm, whilst a break out force of 59.1kN compares very favourably with the competition. The machine also benefits from variable flow hydraulics, and servo controls. There's an option of either steel or rubber tracks, and the unit is now available with a 2-piece boom.
A flourishing groundworks business will inevitably translate it an expansion in its fleet and that's certainly the case with Brooklyn Homes. The TB290-2 might be the most recent addition, but the Dorset-based outfit was also one of the first to invest in Takeuchi's 15 tonne TB2150, with its powerful offset boom. "We're now undertaking projects with 40 or 50 units," continues Lee, and for that we need something that can work quicker, but we've found the 15 to be still compact enough to access and manoeuvre around site." Indeed, the TB2150 has a track footprint of just 2,690 x 3,580mm but, with a bucket breakout force of 98.7kN, it's equally adept at large excavations in relatively tight spaces. Powered by an 85kW engine, Takeuchi's 15 tonner achieves a dig depth of 5,225mm. It's cast steel counterweight wrap around protects the unit from the hard knocks of a busy housebuilding site and it is equipped with steel tracks as standard.
"Our developer clients like the fact that we are in command of the whole build, right up to the roof," concludes Lee, "and the fact that we have our own fleet of plant is what puts us in control. Ultimately, the Takeuchis are powerful, reliable and can get the job done quickly, which is what we need from a digger – they just don't go wrong."