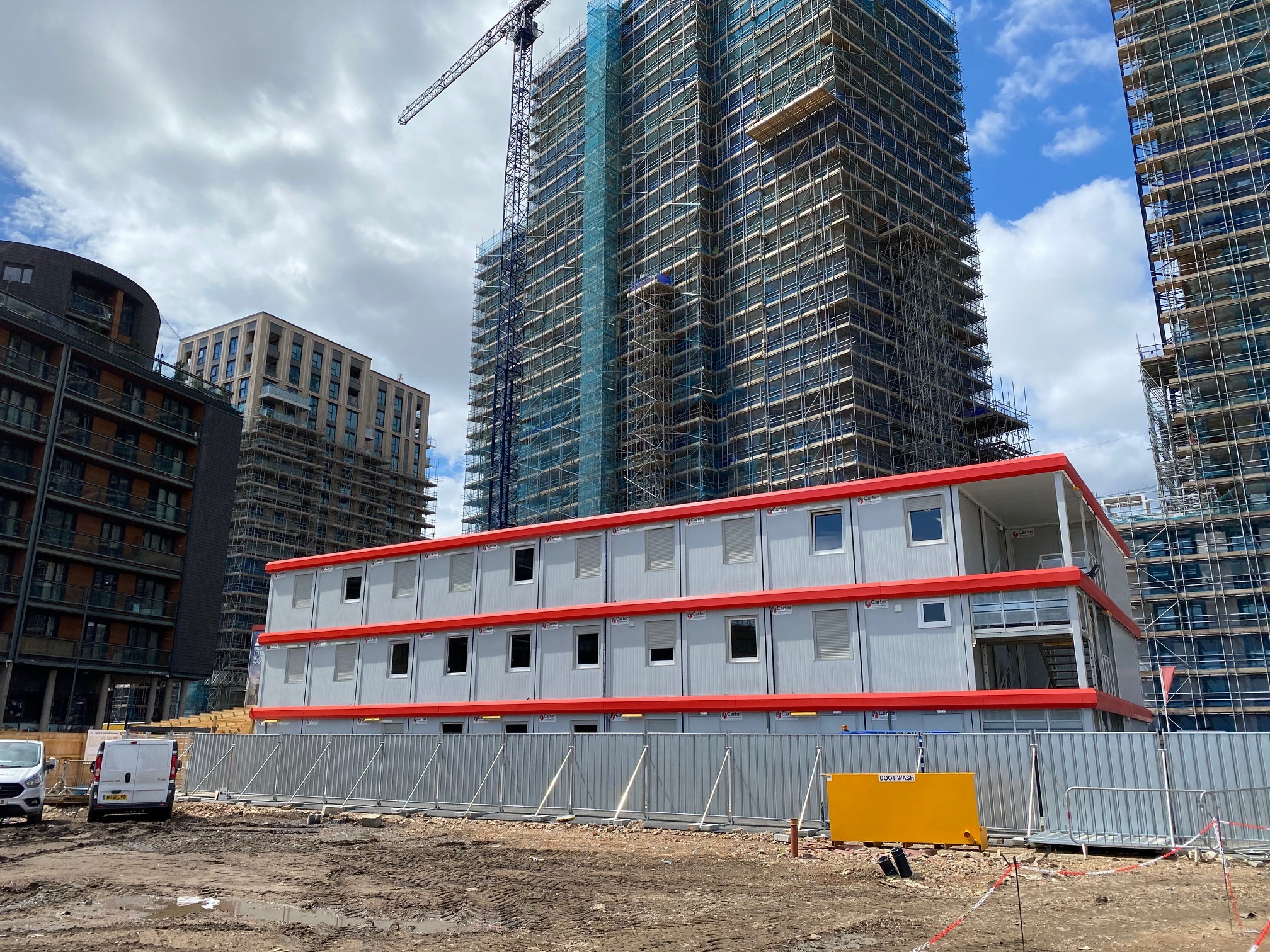 A crucial aspect of creating an effective work environment is providing appropriate welfare facilities. Here, Tom Baker, business development director at Algeco Hire, looks at how site accommodation has evolved and what factors contractors need to take into account.
Over the years, there has been a growing recognition of the importance of welfare facilities and the wellbeing of construction workers.
The industry now has a greater focus on diversity, inclusion, and mental health which has come about due to long hours and challenging workloads as well as the fact that some workers are away from home. All of it has contributed to increased stress among the workforce.
Shockingly, according to National Building Specification, stress, anxiety, and depression account for one-fifth of work-related illnesses, resulting in 70 million days off sick per year at an estimated annual cost to £70bn-£100bn.
In light of this, the industry has recognised the need for change. One of the most visible signs of the shift towards prioritising mental health and wellbeing is in the quality and breadth of site accommodation now available.
Making a difference
Modular site accommodation for construction projects can now be designed to almost any specification, with limitless options when it comes to size and configuration. Huge, hotel-like site villages can be created, using connected and stacked modular hire units.
Meeting rooms, offices, shower blocks, kitchens, storage and welfare areas can all be incorporated as required. Internal walls can be added, moved or removed altogether to create individual offices or open plan workspaces.
Any number of systems can be added, from high-level WiFi networks to climate control that reduce energy consumption substantially – potentially saving hundreds of pounds or more each year – as wells as CO2 emissions. They now provide year-round climate control, heating, air conditioning and dehumidifier, all in one unit. Being more responsive means that they heat and cool workplaces quicker, whilst reducing electrical load, meaning it can be used as an on- or off-grid set up.
In terms of connectivity, sites can choose either plug 'n play or professionally installed and managed WiFi service, and, here, we have just added 5G broadband and large antenna to the range.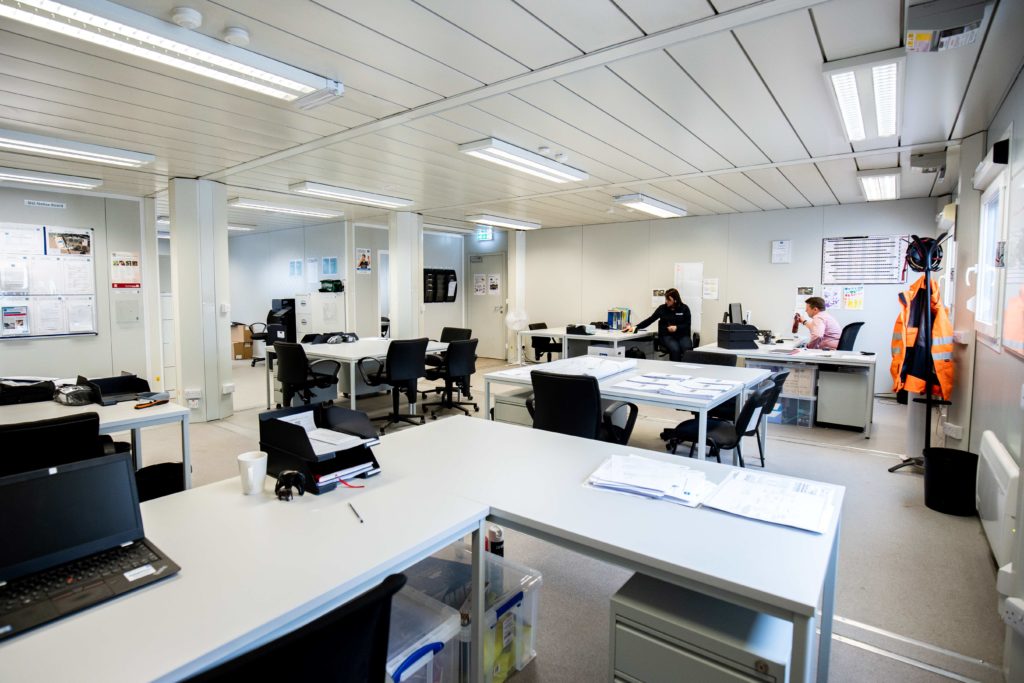 Welfare checklist
Once you've identified the need for site accommodation, start by outlining your requirements. What will it be used for? How many people do you need to accommodate? Health & Safety Executive (HSE) guidelines recommend 11m3 per person. What types of rooms and how many of each are required? For example, HSE guidelines state that two toilets and two handbasins are needed for every 25 people.
The type of welfare facilities required will vary depending on the size and nature of the construction site However, as a minimum, we recommend you include the following:
toilets: should be connected to mains plumbing, if possible, but inbuilt water supplies are acceptable. Toilets should be well-maintained, ventilated, and well-lit.
drinking water: Workers should have access to clean drinking water at all times. This can be provided through bottled water, coolers, or taps that are connected to the mains supply.
washing facilities: Workers should have access to washing facilities, including sinks with running water, soap, and towels. Showers may be needed, depending on the nature of the work being carried out.
rest rooms: Workers should have a place to rest and relax during breaks. This could be a dedicated rest room or simply a shaded area with seating.
changing rooms: Workers who need to change into protective clothing should have access to clean, well-ventilated changing rooms.
It's important to think beyond the basics and consider your employees' social, religious and personal needs too. We're seeing increased demand for facilities such as prayer rooms, smoking shelters, segregated bathrooms and quiet breakout spaces.
Fire safety is always a priority which is why we have developed a customer guide in response to recent updates to the Joint Code of Practice (JCoP). Titled: 'JCoP: Fire Prevention on Construction Sites – How to make sure your temporary buildings comply', it sets out requirements of the newly updated JCoP version 10.1 and how this relates to temporary buildings and temporary accommodation on site. JCoP is often referenced in insurance contracts and is recognised as 'best practice', so it's definitely worth understanding how site accommodation fits into these requirements.
Conclusion
Site accommodation plays a vital role, providing safe and comfortable spaces for workers. As the industry evolves, there is a growing recognition of the importance of welfare amenities, mental health, diversity, and sustainability.
Latest site accommodation solutions have responded to these needs by providing flexible, cost-effective, and customisable solutions. By prioritising wellbeing and creating conducive work environments, the construction industry is paving the way for a more inclusive, sustainable, and considerate future.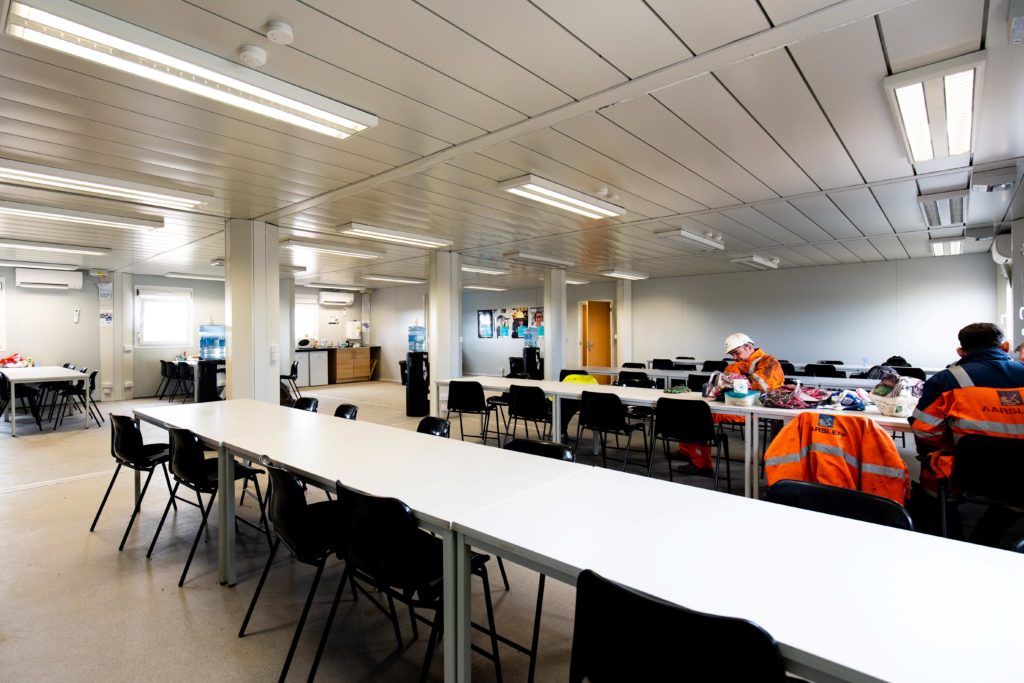 Need to know: electrical testing of site accommodation
The new electrical testing element of Algeco 360 turnkey service provides customers with peace of mind that the site accommodation meets all requirements post-handover and includes an NSI certificate just 5 days after testing.
Under the Health & Safety Act 1974 (HSWA) and the Electricity at Work Regulation (EAWR), employers have a legal duty to ensure the workplace is a safe environment. The electrical testing service provides customers with an electrical installation condition report for all its site accommodation solutions.
The condition report is carried out in compliance with BS7671 2018 IET Regulations for Electrical Installations and IET (Institute of Engineering and Technology) Guidance Note 3 Inspection and Testing.
Electrical testing on site is important because once site accommodation is delivered, customers will connect to a local/generator electrical source. These new connections require re-testing. Site accommodation is only tested up to delivery and not for on-site installation or obligatory annual service tests.