JCB Compact Products has been an increasingly important player in the mini and midi excavator market for some years.
Producing a wide range of conventional and reduced tailswing machines, with operating weights from less than 1 tonne to more than 10 tonnes, the manufacturer's modern production facilities in Cheadle, Staffordshire, builds 20 micro, mini and midi excavator models up to 10-tonnes. The 1.5-tonne machine range accounts for a large proportion of production.
Fabrication
Sheet steel is delivered on a daily basis to the site, in varying thicknesses from 3mm to 30mm. This is cut size using four computer-controlled laser cutting machines and a plasma cutter for the heavier material. The fabrication line uses 400 – 650 tonnes of steel per week, creating around 66,000 cut pieces.
There are four heavy-duty steel presses
on the fabrication line, with pressures between 50 tonnes and 320 tonnes. These bend sheet steel into the required shapes for booms, dipper arms and frame components.
Welding is completed in two main fabrication lines, one for the undercarriages and a second for booms and dippers. Undercarriage turrets, booms, and dippers are machined in three CNC machining centres, to ensure perfect alignment of pins and fixing for additional components.
Track frames are assembled on a separate sub-assembly line, before being incorporated in the lower frame structure.
Paintshop
JCB Compact Products pioneered the use of powder coating paint within JCB, installing a £1.3m plant in 1998. The powder coating, which is an environmentally-friendly paint process, provides an optimum 100-micron paint thickness, delivering a durable, long-life finish that is highly resistant to UV light, minimising fade.
The painting process takes around 4.5 hours, with components passing through the plant on conveyors.
Once loaded on to the conveyor system, the component is shot-blasted to remove grease and contaminants, followed by a wash-off and pre-treatment process.
Parts are heated by a hot air blower to dry off any fluids before being powder coated. While JCB yellow and black are the main colours in use, the plant can offer customers individual paint options to suit fleet requirements.
Once coated, the parts are oven cured for around 75 minutes at temperatures of between 190°C and 205°C to bake the powder into a tough, glossy paint surface. A cold air cooling unit brings the temperatures down before the components are removed from the conveyor and sent to the assembly lines.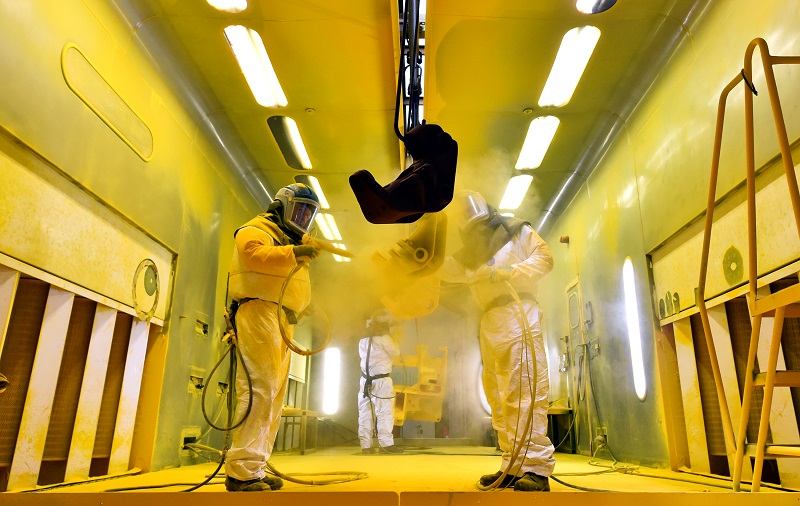 Hydraulic Clean Room
At the heart of the assembly area is a hydraulic clean room, where hydraulic components from suppliers are tested and sub-assembled prior to production. The room has compressed air vacuum cleaners to remove any paint flake ingress that may be caused by removal of plastic protection caps from pumps, valves and motors.
Positive air pressure within the room also ensures that there is no ingress of dust particles when the door is opened, while all components move in a single direction through the room. Direct current sequential torque control tools are used to ensure accurate, repeatable assembly of hydraulic valve blocks and other major components.
The facility also incorporates a bulk hydraulic oil store, which delivers oil to each assembly line. All oil is passed through a series of 3-micron filters to effectively polish the fluid. All machines are also flushed using a 3-micron filter attached to the auxiliary hydraulic line. To put this in perspective, a human hair is around 100-microns thick.
Assembly
Compact Products has six main assembly lines for excavators.The exact build process varies depending on the size of the machines, but all follow a similar assembly process. Track frames are assembled first, with the addition of the rotary joint and slew ring. A separate sub-assembly line for the upper-structure runs alongside the main line. For the larger models these two operations sit side by side.
Counterweights, hydraulic and diesel tanks are installed, followed by the engine and hydraulic pumps, which have been built on a separate sub-assembly line. Dozer blades are connected to undercarriage frames where required, followed by cooling packs and hydraulic hoses within the upperstructure.
Mini and midi excavator cabs arrive at the Compact Products plant from JCB's own cab plant in nearby Rugeley. However there is some sub-assembly at the plant to tailor the cab or canopy structure to each machine specification. Specific seating and joystick controls are installed, along with control panels.
Once the cab has been installed on the machine, the Electronic Control Units are tested to ensure that everything is working in sync, before fluid tanks are filled.
At this point the boom and dipper, which are also built on sub-assembly lines alongside the main build line, can be fitted to the machine. The excavator is then started for the first time and it can be driven off the line under its own power. Warning decals and the engine canopy are fitted at this point and the machines run for 10-15 minutes to warm through the hydraulics.
A UV sensitive dye is added to the hydraulic oil and the machine run again for a further 10 minutes. All excavators then head to a UVXPOSE area, where UV light is used to check hydraulic connections. Following this process every excavator heads to the end of the line for a series of functional tests.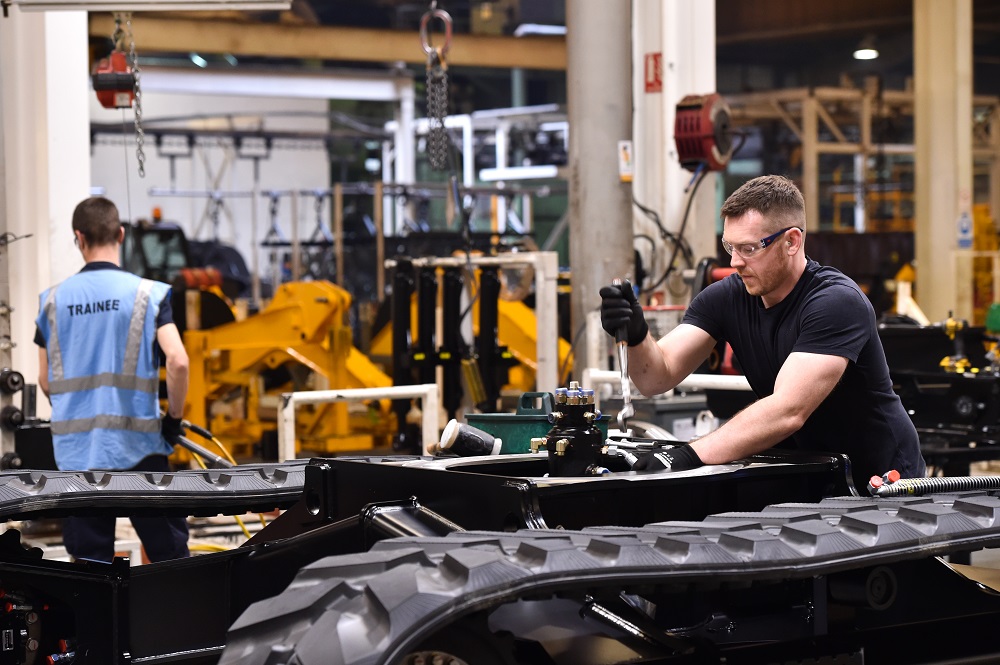 Testing
Once these have been completed the excavators are taken outside for extensive hot testing, where weighted buckets are fitted to simulate actual operation. A second hot test inspection area provides a further visual check of all fluids and components. An area is available at this point to make any necessary adjustments.
Final inspection plates and decals are installed and the machines head to a pre-delivery inspection (PDI) area, where once again quality inspectors carry out a thorough check of the machine. Only at that point can a JCB mini excavator be signed off and delivered to a customer.
For further information on JCB click here.